LP Truck Driver
Location Yuma, Colorado Date posted 06/24/2022
Overview
CHS drivers spend their days making life easier for their customers – farmers, ranchers, local feed & seed stores, community gas stations and refineries. You'll know most of the people on your route and you'll be home most nights for supper.
More than any other role at CHS, you're the connector. Moving products from sellers to buyers. Transporting supplies from production facilities to customers. Keeping rural America in business from before spring planting starts to well after fall harvest ends.
CHS is one of the biggest names in agronomy, energy and grain processing. Join our driving team and see where your career takes you.
Success profile
Having these traits leads to success in any of our driver roles:
Flexible
Detail-oriented
Personable
Positive
Quick-thinking
Responsible
Safety & service
As part of the CHS driver team, safety and customer service matter more than anything:
Safety — You'll be hauling a variety of materials, some of which are hazardous. That's why you're required to have certain licensures and why we provide a new or late-model truck with top of the line safety equipment. This is a job where safety always comes first.
Service — Once you arrive safely, then it's all about the customer. You'll get to know them and become familiar with the unique rhythm of their business. And when it's harvest time, you'll go above and beyond because that's the spirit of a rural community.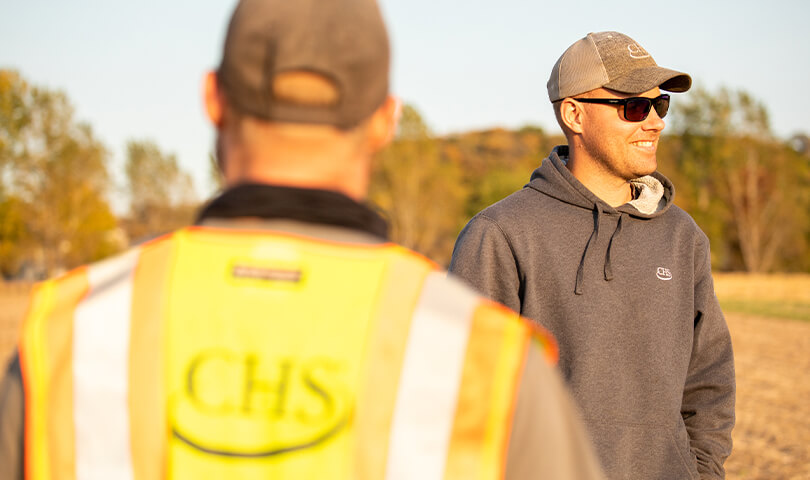 Quote

I'm carrying hazardous material, so I'm constantly thinking about safety. On average, I only drive 120 to 175 miles a day. I make a lot of short trips back and forth through rural areas, so I'm always on the lookout for farm equipment and school buses and keep a safe distance from them on the road.

— Mark Siefers

Driver and recipient of the CHS Transportation Million-Mile Safe Driving Award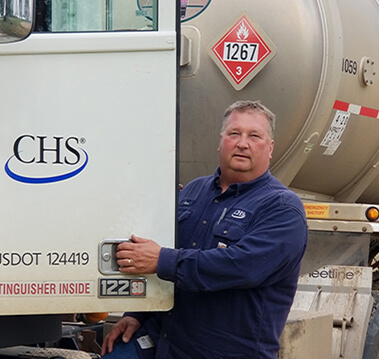 Fun fact: Mark has driven over 2 million miles without a safety incident — the equivalent of driving around the world 80 times.
Career path
Agronomy: Warehouse Operations

Truck

Dry van trucks
Straight trucks

Load

Palletized products like feed and fertilizer
hazardous - license endorsements
fertilizer and other commodities

Customers

Retail outlets that sell products to large farming operations
Warehouses that are designed to distribute our packaged goods to retailers.

Licensures

Minimum Class B CDL, prefer Class A

Route

Energy: CHS Transportation

Truck

Tankers (multiple load)
Pressure trailers

Load

Refined fuels, lubricants, propane and renewable energy products.

Customers

Gas stations, bulk plants (large propane bottle)
Then smaller trucks take it to farms, and smaller businesses

Licensures

Valid Class A CDL with Hazmat/Tanker endorsement
2 years or 200,000 miles of verifiable tractor trailer experience endorsement

Route

Primarily regional; some long-haul
Home most nights

Retail: Country Operations

Truck

Dry van trucks
Straight trucks

Load

Commercial driving + fill-in warehouse work
Crop inputs (fertilizer, protection, nutrients)
Nitrogen, phosphorus, potash

Customers

At the co-op level; working directly with local farmers and ranchers

Licensures

Class A CDL
Hazmat, tanker and airbrake endorsements endorsement

Route
Benefits & perks
We offer all of the benefits you'd expect from a large, international employer. Plus, we've made sure they're affordable for every stage of your life — whether you're early-career and starting a family, late-career and looking ahead to retirement or at any point in between.
Medical

Dental

Vision

Life and disability insurance

401(k)/ Retirement Plans

Military pay differential
Responsibilities
Job ID 5820
Date posted 06/24/2022
CHS Inc. is a leading global agribusiness owned by farmers, ranchers and cooperatives across the United States that provides grain, food and energy resources to businesses and consumers around the world.  We serve agriculture customers and consumers across the United States and around the world.  Most of our 10,000 employees are in the United States, but today we have employees in 19 countries. At CHS, we are creating connections to empower agriculture.
Summary
CHS Inc has an exciting opportunity at our Yuma, CO Energy location. We are looking for a Liquid Propane Driver to deliver products in Northeastern Colorado and Western Nebraska.  You must exhibit personal integrity, have an excellent driving record and be committed to safety and customer service.
Great Benefits!
Retirement (401k + matching, company paid pension plan, & profit sharing)
Low premium health insurance
Dental/Vision Insurance
Company paid Long-term & Short-term disability
Plus more!
Responsibilities
Pick up and deliver product to customers in a safe, timely, and professional manner, ensuring the truck is operated in a safe manner at all times.
Follow all guidelines and regulations for hauling Product.
Maintain logs with each shipment, completing daily invoices and reports.
Perform visual inspection of truck before leaving premises and complete maintenance report on all deficiencies.
Report all accidents, traffic violations, and damage to vehicles.
Complete daily maintenance report and notify supervisor of any needed repairs.
Maintain cleanliness of your truck both inside and out.
Ensure on time loading and unloading and communicate with vendors if delays occur.
Use and understand hand tools and power tools.
Provide excellent customer service, treating all customers in a friendly and courteous manner.
Be available to load and/or unload your loads as needed.
Make out daily trip sheet and other paper work as required.
Use sound judgment and abilities to support the best interests of the company in all situations.
Perform other related duties as needed or assigned.
Work additional hours and occasional Saturdays to meet business needs.
Minimum Qualifications (required)
Must meet minimum age requirement
Class B CDL with Hazmat, Tanker and Air Brake endorsements
Must meet DOT and Company requirements
Ability to use hand tools and power tools
Ability to read, write, and communicate in English
Ability to work additional hours and occasional Saturdays to meet business demands
Must pass pre-employment criminal background check
Additional Qualifications
Bulk liquid experience
Customer service experience
Compensation Data
Hourly $15.72 - $21.63 and up
This position has opportunity for promotion
CHS offers a competitive total compensation package. 
Compensation: This includes base wage and may consist of other earnings depending upon position within CHS, consisting of bonuses, incentives, commissions, merit pay.  This position may be an opportunity for promotion. 
Benefits: Health, Dental, Vision, Hearing, Life Insurance, Health, and Day Care Savings Accounts, Paid Vacation, 401K, Company Funded Pension, Profit Sharing, Long and Short-Term Disability, Tuition reimbursement, and Adoption assistance.
CHS is an Equal Opportunity Employer.
I'm interested
Stay Connected
Join our talent community
Want to stay in touch? Join our talent community and we'll send you updates about what's happening at CHS and when we're hiring.
Sign up